A redenção de Hiroshi Tanahashi
Vocês com certeza já viram centenas de histórias de redenção no mundo do wrestling profissional. Seja na WWE, TNA, ROH, New Japan e outras dezenas de empresas ao redor do mundo. E em 2018 não foi diferente.
O dia 11 de Fevereiro de 2015 foi a última vez que Hiroshi Tanahashi teve a sensação de ser IWGP Heavyweight Champion. Neste dia, AJ Styles, até então a maior estrela estrangeira na New Japan, derrotou o "Ace" e conquistou o título pela segunda vez. Tanahashi saiu do combate sangrando e nos braços de seus companheiros.
Ainda em 2015, Hiroshi Tanahashi viria a vencer o G1 CLIMAX pela segunda vez em sua carreira depois de um clássico contra Shinsuke Nakamura. Ele viria a enfrentar Kazuchika Okada, que havia conquistado o título principal em Julho daquele ano, no dia 04 de Janeiro de 2016 - onde seria derrotado no Tokyo Dome pela primeira vez em anos, no que foi considerado uma passagem de tocha para Okada como o novo "Ás" da companhia.
Entretanto, Shinsuke Nakamura, até então o IWGP Intercontinental Champion, anunciou que estaria deixando a New Japan Pro-Wrestling no final daquele mês e deixando o título vago. Como Kenny Omega havia conseguido uma vitória direta sobre o "King of Strong Style" no dia 05 de Janeiro e, em seguida, tomado a liderança do Bullet Club para si, estava programado para desafiar pelo cinturão, Nakamura "deu" a chance de seu antigo rival ter a chance de defender a empresa ao combater o Cleaner pelo título.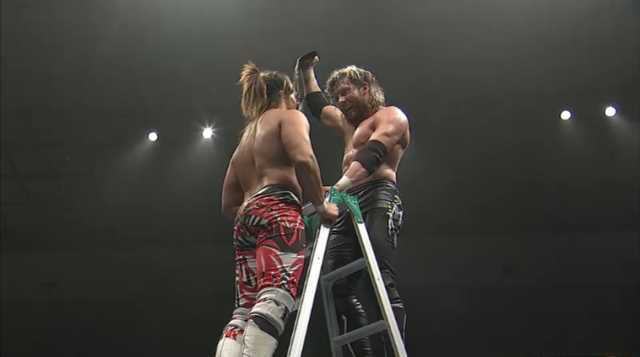 Bem, a história vocês já sabem. Tanahashi foi derrotado por Kenny Omega no New Beginning in Niigata e passou os próximos meses em rivalidade com o Cleaner e tratando de lesões. Uma das lesões impediram ele de enfrentar Kenny no Dominion daquele ano na primeira ladder match da história da companhia, tendo que ser substituído por Michael Elgin. O "Ace" teve um G1 CLIMAX 26 de altos e baixos, mas chegando ao dia final do bloco A com chance de avançar até a final. Tanahashi enfrentou Okada novamente e eles chegaram a um empate. Empate que viria dar a liderança e, consequentemente, a vaga para Hirooki Goto no combate decisivo do torneio dois dias depois.
Os próximos meses então colocaram Tanahashi contra Los Ingobernables de Japón e isso resultou em um combate com Tetsuya Naito no Tokyo Dome em 2017, onde acabou sendo derrotado pelo segundo ano seguido. Mesmo com essa derrota, ele continuou na busca do cinturão e seria recompensado com a conquista do mesmo em Junho daquele ano.
O novo campeão teve um reinado consistente, apesar das críticas feitas ao combate dele com Jay White no Wrestle Kingdom 12. Mesmo com um título em sua cintura e apresentações dignas de uma estrela de topo, Tanahashi tinha problemas com lesão e, nesse meio tempo, Kenny Omega chegava ao estrelato devido a uma série de combates excepcionais com Okada e Naito, além de ofuscar o próprio título de Tanahashi ao enfrentar Chris Jericho no co-main event do maior evento da New Japan no ano em um combate válido pelo novo IWGP United States Championship.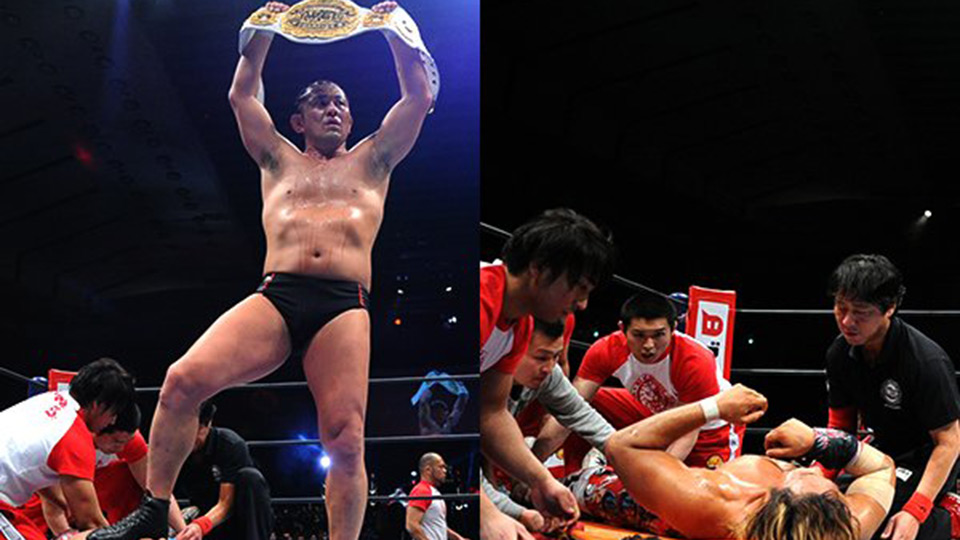 As dificuldades então só cresceram para Tanahashi. Ele perdeu o IWGP Intercontinental Championship para Minoru Suzuki, e de quebra teve que tirar algumas semanas para se recuperar de lesões, e foi derrotado por Zack Sabre Jr. na final da New Japan Cup. Como se não fosse o bastante, ele perderia seu recorde de defesas com o IWGP Heavyweight Championship para Kazuchika Okada em Maio ao ser derrotado pelo próprio Rainmaker no evento principal do Wrestling Dontaku. A derrota pareceu ter quebrado Tanahashi de vez, ele chorou na tradicional entrevista pós-combate e prometeu se redimir.
Ao mesmo tempo que Tanahashi lamentava sua derrota, Kenny Omega estava sendo escolhido por Okada para ser seu próximo desafiante ao título. Kenny, eventualmente, viria a derrotar Okada e conquistar o cinturão no Dominion, dando fim a um dos maiores reinados da história do esporte. E este foi o início dos problemas.
Voltando a meados de 2015, Kenny Omega e os Young Bucks pareciam ter formado uma aliança dentro do Bullet Club. Não apenas como parceiros de facção, mas algo como um "time de futebol dentro de um time de futebol". Em 2016, isso iria se concretizar com a chegada de Kenny a liderança do grupo, onde os três começaram a se chamar de Elite. Na época, havia rumores de que a WWE havia comprado a licença do nome junto à NJPW depois da contratação de nomes como AJ Styles, Karl Anderson e Luke Gallows, mas o que se viu foi diferente.
Com a introdução de Adam Cole, Adam Page e Cody Rhodes ao Bullet Club mais tarde naquele ano, havia claramente uma segregação no grupo: ou você era do grupo de Kenny, ou você era dos "outros". Isso ficou por muito tempo implícito mas só um ano depois que os "outros" começariam a se rebelar contra a liderança de Kenny. Mesmo Cody, que era do grupo de Kenny, se rebelou contra o Cleaner, o que levou ao retorno dos Golden Lovers, dupla do canadense com o japonês Kota Ibushi.
Até o momento em que Kenny havia sido desafiado por Okada no Wrestling Dontaku, ele estava no meio de uma rivalidade com Cody e só havia participado de cerca de vinte combates no ano pela New Japan. Enquanto seu adversário, Okada, tinha quase quatro vezes mais e estabelecido diversos recordes com o cinturão que carregava até então. A ausência de Kenny Omega começou a ficar tão claro para os fãs que o mesmo não apareceu em nenhum dos shows da turnê do Best of the Super Juniors, que antecedeu o Dominion, e foi delegada a responsabilidade de promover o confronto para Kota Ibushi.
Kenny alegou estar com algumas lesões durante este período, mas mesmo assim continuava participando dos shows importantes. E mesmo após sua conquista, onde esperava-se que o lutador começasse a participar mais dos shows "menores", o que se viu foi diferente.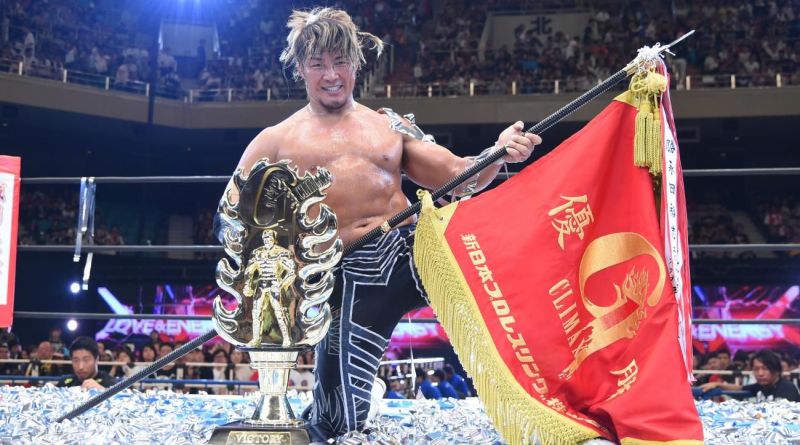 Tanahashi venceu o G1 CLIMAX 28 pela terceira vez em sua carreira em um torneio quase perfeito, perdendo apenas um combate entre os dez (contando com a final) que participou e empatando um com Okada. O Ace viria se redimir, como prometido meses antes, e derrotou seu algoz no Destruction in Kobe para não só manter seu contrato que lhe dava a chance de estar participando do evento principal do Tokyo Dome mais uma vez mas como anotar sua primeira vitória frente a Okada desde Janeiro de 2015.
Enquanto isso, Omega lidava com a rebelião de Tama Tonga e a responsabilidade de carregar o IWGP Heavyweight Championship. Mesmo derrotando Tomohiro Ishii em um dos shows da turnê Destruction, as críticas vieram a tona novamente ao ser marcada uma triple threat match para o evento principal do King of Pro-Wrestling entre ele, Ibushi e o novo IWGP United States Champion Cody. Não havia motivos para Cody estar nesse combate além de que Kenny e Ibushi não queriam se enfrentar novamente.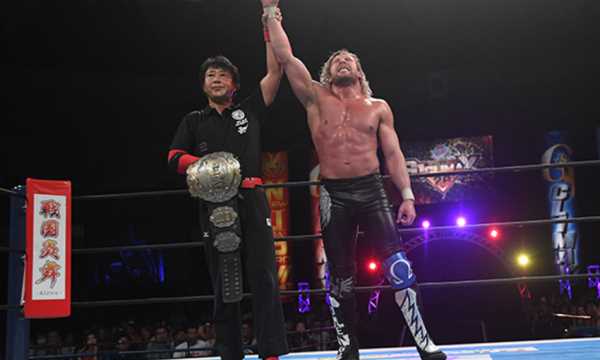 Em 2018, Kenny Omega fez 54 combates pela New Japan Pro-Wrestling. Dezesseis destes combates foram singulares, trinta e sete tag team matches e uma triple threat match. Hiroshi Tanahashi, seu adversário no dia 04 de Janeiro de 2019, em comparação, fez 107 combates mesmo com algumas semanas de descanso.
Kenny Omega sem dúvidas é um excelente wrestler, mas não há como negar que seu calendário é leve em relação aos outros da companhia. Claro, todos querem trabalhar o menos possível e ganhar uma boa quantidade de dinheiro, mas não só Kenny mas como seus parceiros de Elite têm um calendário parecido e conseguem ofuscar lutadores que estão o tempo todo ali como Tetsuya Naito, Minoru Suzuki, Juice Robinson e até mesmo Zack Sabre Jr. - que só veio a assinar com a companhia na metade deste ano.
O confronto no Tokyo Dome não será apenas um "showcase" de dois excelentes lutadores, mas um batalha de ideais e quem realmente vai ser o representante da New Japan em 2019. Tanahashi é um conservador de ideais de combate e como uma estrela de topo deve ser. Kenny quer uma mudança em como o wrestling e wrestlers devem ser tratados, isso sem assinar com a WWE.
Ou seja, Kenny Omega quer mudar o mundo e mostrar que o professional wrestling é muito mais que a WWE....ou Kenny Omega quer mudar onde trabalha para ser a WWE?
Fonte:HOW